NEWS
2021 / 12 / 13
Tips to Find the Right Replacement Piston Rings for Your Engine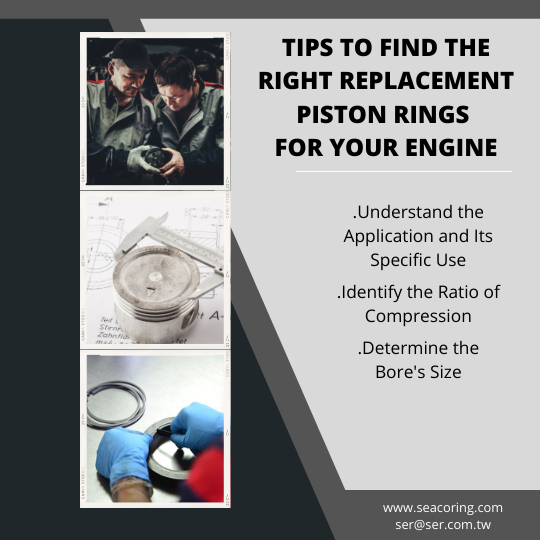 Tips to Find the Right Replacement Piston Rings for Your Engine
It is very important to choose the correct piston ring to make sure that your engine always performs at its best. Thanks to modern technologies, today's piston makers are able to do a great job of manufacturing replacement rings that look as great as the original, not to mention that they are also easy to install.
Piston rings (Engine parts) are among the most crucial elements of reciprocating engine. These rings may seem small, but they play numerous roles. They seal the combustion chamber, help with heat transfer between the piston and cylinder wall, and regulate oil consumption.
If you are currently in the market looking for replacement piston rings for your engine, here are some tips to help you out.

Understand the Application and Its Specific Use
Even though manufacturers of piston rings use different materials to produce their products, such as molybdenum, iron, and chrome, your choice of piston ring will depend on the specific application.
When the rings are meant to be installed in the engine of a passenger car or a light truck, you can opt for OEM molybdenum ring or cast-iron rings since these are known for their extreme durability.

Identify the Ratio of Compression
Just so you know, piston rings come with part numbers and compression ratios. After you have chosen the specific type of piston ring that you want or need, the next important step you should take is to identify the ratio of compression. The high compression rings are the best choice for general use, while compression rings are the ones that should be used for turbo or supercharged applications.

Determine the Bore's Size
Now that you know the specific type of piston ring you need and the compression ratio, the third on the list of things you should do is check the bore's size. You can find piston bores in different bore sizes. It is recommended that you consult with an expert for you to determine the bore size that best fits your engine.
After you get a good understanding of all these factors and elements, you can now feel confident in buying the right replacement piston rings for the engine. You need to make sure that you don't just get any piston ring. While these parts may seem small and even insignificant for you, always remember that these rings actually play very critical roles for the overall function of your engine.
The good mews is that there are now many piston ring manufacturers in the market. Be sure that you only buy your piston rings from the most reliable maker. This way, you can have the peace of mind knowing that you will be getting only the best and top quality piston rings that can give the best value for your money and deliver quality performance and results.